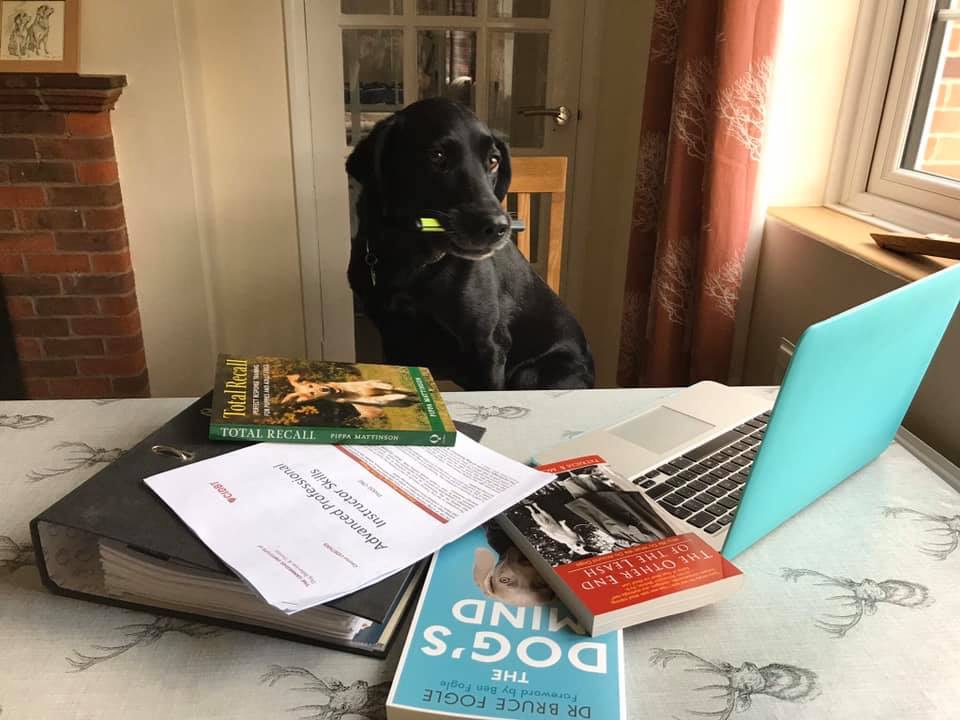 ONLINE TRAINING
1 Hour
£40
ONLINE TRAINING
45 minutes
£35
Clients will be pleasantly surprised by some of the extra benefits these sessions can bring.

The online sessions are hugely valuable to those who:
Don't have specific behaviour or training issues, but would like to continue their dog's training throughout lockdowns or isolation.
Don't live within the local area but would like to train with Canine In-Tuition
Are in insolation or shielding, and are seeking new enrichment ideas for themselves and their dogs
Struggle to visualize effective ways to use the space and tools they have at home
Have dogs that need to learn basic commands, but can be easily distracted in new environments
Just want some other human and canine interaction to break up the day! (Especially for those working at remotely)
How does it work?
If you are not familiar with online meetings, please don't panic!
The notes below will guide you through the simple process and I am always at hand if you have any queries. Once you have completed the process once, it'll be a piece of cake!
Online training will take place via Zoom. Please contact me directly to arrange your session

Depending on which session you opt for, the online training will last for 45minutes or 1 hour. Payment is required either via the online portal, or via BACS at the time of invoice (prior to your session).

Once your booking has been accepted, you will receive a confirmation email which, most importantly, will include the Zoom link required to access your scheduled Online Training Session.  
For those who don't already have a Zoom account (free), it is suggested that you create an account prior to your lesson so that you are all set and ready to go. Maybe even organise your own meeting with friends and family in order to familiarise yourself with using it?!
Important information once the session commences:
Training can take place either in the house or garden (subject to your WIFI or alternative internet availability). The space you need will depend on the exercises we will be covering however, you'll be amazed at how inventive we can get with both space, and household objects!
Have any treats or general training equipment at hand. Depending on the exercises, I may send you off to find alternative items to help with the training. 
When you log in, make sure your camera is switched on and set up pointing towards you and your dog in order to give me the clearest view/perspective of you training as possible. Also make sure that you allow access to the microphone, and that you are not on mute.
Although I have good internet connection, we all know that technology can be unpredictable! If the screen freezes, bear with me and I'll be back in just a few seconds. Equally, if your connection goes, just click the link again to re-join the session. 
It may take a little getting used to, and a bit of thinking outside the box is required from both ends, but these sessions are great fun and open you and your dog up to new challenges and ideas of how to train within your home. 
Most of all, enjoy it and make the most of the many training opportunities you can create around the home!
Thank you for your interest in the Online Training Sessions. I look forward to seeing you and your dogs in your virtual session.
(Please take the time to familiarise yourself with the updated Terms & Conditions which you are asked to agree to upon registration)